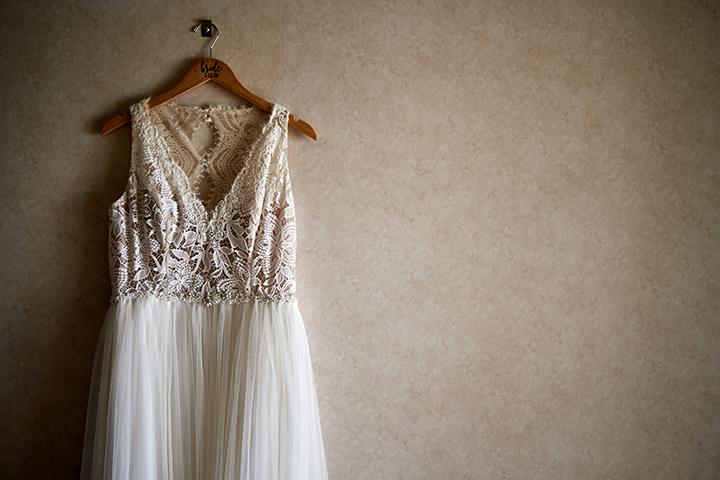 How to Keep Your Gown Looking Its Best
When the big day is over and it's time to put your wedding dress away in storage, don't forget the most important step to preserving your gown — cleaning it. Even if there are no visible stains on your dress, it's important to give it a good cleaning, as many stains can show up later with oxidation. Sweat, food and drink stains, and even dirt that collects on the bottom of your gown, can set into the dress over time, making them even more difficult to remove.
You can tackle wedding gown cleaning in one of two ways: do-it-yourself or with the help of a professional. If you have a simple dress that is made from fabric and can be hand-washed at home, it's easy to do it yourself. Otherwise, a professional cleaner with wedding dress cleaning experience is your best bet. Many times, you can purchase a service that cleans the dress and preserves it in an archival-quality box for you.
Do-it-yourself
If you're tackling the cleaning yourself, we recommend the following steps:
Read the label. Make sure you follow any directions. Most gowns will be hand-wash only, but you may find a few that are safe to put in the washer.
Pretreat any stains with stain remover. Make sure to thoroughly inspect the dress, including the bottom, which often collects dirt and stains during your celebration.
Follow directions for hand washing, including temperature and detergent.
Allow the dress to dry completely, either in the dryer or on the line as directed by the label, before putting your dress away in storage.
Professional cleaning
If you're going with a professional wedding gown cleaning service, make sure to find one that specializes in wedding dresses. Ask around for recommendations, and then vet the cleaner by asking whether the cleaner uses gentle solvents, not those used in regular dry cleaning, which can deposit impurities onto dresses and leave them with a strange smell.
Also, ask the cleaner what type of guarantees they have (length of time they guarantee the dress will remain in pristine condition, insurance against damage during the cleaning and preservation process). If they guarantee their work against damage, make sure they promise to refund the cost of the dress, not just the cleaning and preservation process.
Make sure your cleaner is paying attention to your dress's label and has experience spotting stains. Also, they should be aware of any beading or other delicate features that need to be covered up to protect them during the cleaning process.
We do recommend getting the dress cleaned as soon as possible to prevent stains from setting in. If you're headed on a honeymoon, ask a trusted bridesmaid or family member to take your dress to the cleaner after the wedding.
If you're having your dress preserved in an archival box, we recommend asking to see the dress before it's wrapped up and placed in the box. That way, you'll be able to ensure that it's clean to your standards and won't have any surprises when you open the box for your daughter 20 years later.
UOVO specializes in luxury wardrobe storage, and provides travel wardrobe storage and delivery, digital catalog and lookbook services via the MyCloset app, fashion archiving solutions, and more. We can safely store your wedding clothing and accessories gown after it's been cleaned in one of our secure, climate-controlled facilities closets. We can ensure that your wedding gown remains in pristine condition to hand down to a family member or simply bring out on an anniversary for a trip down memory lane. Contact us today to find out more.